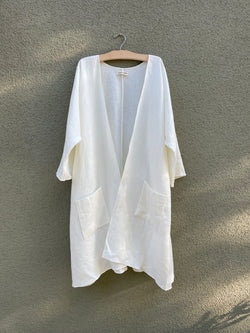 OCTOBER SAMPLE SALE Parker Coat - White Linen
FINAL SALE
The first image shows the exact item; additional images are included to show the style but not necessarily the color.
In general, our sizes are roughly equivalent as follows:
0 = XS to Small, 1 = Medium, 2 = Medium to Large, 3 = Large to XL
Chest, hips, bottom opening, and sleeve opening measurements are taken lying flat and then doubled. Please note that the equivalent US women's sizes are approximate because our garments are designed to fit loosely. The best way to ensure the right fit is to take your measurements and compare with the garment measurements. Take special note of the sleeve opening as that is sometimes a deciding factor.
Due to the nature of linen, there may be some variation from the measurements listed below.
If you have any questions about your sizing, please reach out to us at sales@rachelcraven.com.
| | | | |
| --- | --- | --- | --- |
| RIVERSIDE COAT | MEASUREMENT | SIZE 1 | SIZE 2 |
| | Fits a US women's  | S-M | M-L |
| | | | | | |
| --- | --- | --- | --- | --- | --- |
| PATMOS DRESS | MEASUREMENT | SIZE 0 | SIZE 1 | SIZE 2 | SIZE 3 |
| | Fits a US women's size | 2-4 | 6-8 | 8-12 | 10-14 |
| | Chest | 58" | 58" | 62" | 64" |
| | Hips | 50" | 51" | 53" | 57" |
| | Bottom opening | 47" | 48" | 50" | 52" |
| | Sleeve opening | 13" | 13" | 13.5" | 16" |
| | Length to front hem | 41.5 | 44" | 45.5" | 46" |
| | Length to back hem | 47 | 47.5" | 48.5" | 51" |
| | | | | | |
| --- | --- | --- | --- | --- | --- |
| GEORGIA DRESS | MEASUREMENT | SIZE 0 | SIZE 1 | SIZE 2 | SIZE 3 |
| | Fits a US women's size | 2-4 | 6-10 | 8-12 | 10-14 |
| | Chest | | 56" | 60" | 62" |
| | Bottom opening | | 47" | 50" | 53" |
| | Sleeve opening | | 12" | 12" | 13" |
| | Length to front hem | | 46" | 46" | 46" |
| | Length to back hem | | 49" | 49" | 50" |
| | | |
| --- | --- | --- |
| EDITH ROBE | MEASUREMENT | ONE SIZE |
| | Fits a US women's  | S-L |
| | Length | 52" |
| | Width | 54" |
| | Sleeve opening | 26.5" |
| | | | | |
| --- | --- | --- | --- | --- |
| FRANCIS BLAZER | MEASUREMENT | SIZE 0 | SIZE 1 | SIZE 2 |
| If you ordered in Summer 2021, the sizing has changed since then. The size 1 is now a size 0 and the size 2 is the new size 1. | Fits a US women's  | S | M | L |
| | | | | |
| --- | --- | --- | --- | --- |
| SHEPHERD SHIRT | MEASUREMENT | SIZE 0 | SIZE 1 | SIZE 2 |
| Oversized fit | Fits a US women's  | S | M | L |
| | Length to front hem | | 29" | |
| | Length to back hem | | 34" | |
| | Chest | | 56" | |
| | Bottom opening | | 48.5" | |
| | | | | | |
| --- | --- | --- | --- | --- | --- |
| WALLACH PANT | MEASUREMENT | SIZE 0 | SIZE 1 | SIZE 2 | SIZE 3 |
| We have adjusted our sizing since Summer 2021. We are no longer offering the previous size 0. The size 1 is now called a size 0.  | Fits a US women's  | S | M | L | XL |
| | Waist (unstretched) | 25.5 | 27 | 29 | 31 |
| | Rise | 13 | 13.25 | 13.5 | 13.75 |
| | Inseam | 23.5" | 23.5" | 23.5" | 23.5" |
| | | | | | |
| --- | --- | --- | --- | --- | --- |
| JOAN PANT | MEASUREMENT | SIZE 0 | SIZE 1 | SIZE 2 | SIZE 3 |
| | Fits a US women's  | S | M | L | XL |
| | Waist (unstretched) | 25.5 | 27 | 29 | 31 |
| | Rise | 13 | 13.25 | 13.5 | 13.75 |
| | Inseam | 23.5" | 23.5" | 23.5" | 23.5" |
| | | | | | |
| --- | --- | --- | --- | --- | --- |
| DOVE TANK TOP | MEASUREMENT | SIZE 0 | SIZE 1 | SIZE 2 | SIZE 3 |
| If you ordered in Summer 2021, the sizing has changed since then. The size 1 is now a size 0 and the size 2 is the new size 1. | Fits a US women's size | S | M | L | XL |